The quality of dental prostheses is crucial to the success of a dental treatment
The choice of the laboratory that produces them is therefore a major point. In order to guarantee consistent high quality, the Adent Group has 6 in-house dental laboratories. Located close to the dental clinics, the 3D laboratories produce dental prostheses with precision and meticulousness thanks to the technology and know-how of its dental technicians.
Our technicians – in collaboration with dentists – create fixed or removable restorations of "Swiss Made" aestheticism and excellence. All prostheses are made in Switzerland and are custom-made. Labo 3D | Digital Dental Design laboratories offer a wide range of solutions and treatments for everyone: Silensor® anti-snoring mouthpiece, whitening mouthpiece, complete reconstruction on dental implant, dental crown, protective mouthpiece for sports, partial and complete prosthesis.
3D Lab | Digital Dental Design
The 3D | Digital Dental Design laboratories are present in 4 distinct locations in French-speaking Switzerland: Yverdon, Geneva, Neuchâtel and Renens and in 2 locations in German-speaking Switzerland: Lucerne and Muttenz. These locations allow us to work in close collaboration with the dental clinics of the Adent Group. This proximity allows us to be reactive and to travel to the patient when necessary.
With more than 16 qualified dental technicians, we are the craftsmen of dental prostheses. Thanks to our expertise, we create the smile of tomorrow. Dental veneers, dental crowns, anti-snoring trays, bleaching trays, etc. We provide all types of dental prostheses to our patients.
As head of the Labo 3D | Digital Dental Design laboratories, I have developed high quality standards, in particular thanks to strict production protocols. We offer practitioners and patients superior service and extensive availability.
The dental world and the profession of dental technician are in constant evolution. As a pioneer, we follow these evolutions and adapt to the technologies. The digitization of data (especially dental impressions), the machining of teeth (sizing) and the 3D printing of dental prostheses are some of the major developments and changes that apply in our dental laboratories. We are proud to offer a technological and high-end service in the realization of our dental prostheses.
Philip Aymonier – Dental Technician in charge of the Labo 3D | Digital Dental Design
What makes us unique ?
The use of innovative materials allows, in certain situations, to eliminate the use of metal, thus promoting biocompatibility.
Labo 3D also works in partnership with private dentists who demand superior quality.
Labo 3D is in constant development. Also, to guarantee this same quality in clinics where 3D laboratories are not yet present, long-term partnership contracts are concluded with local Swiss laboratories whose quality has been validated by our practitioners and technicians.
This close collaboration allows us to guarantee a very high "Swiss made" quality but also to shorten the production time of the various prosthetic elements.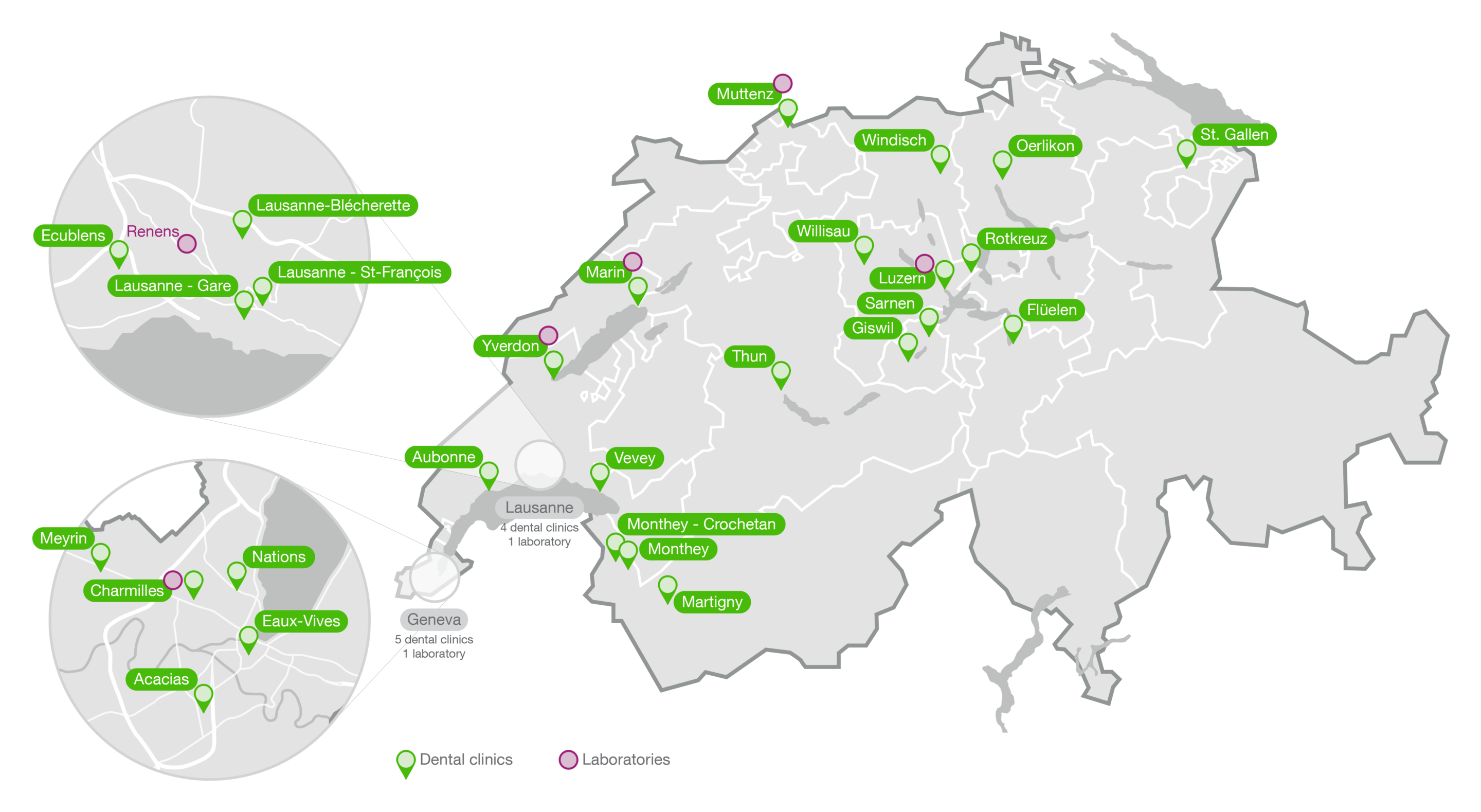 Our addresses