Effective orthodontic treatment for optimal alignment of your teeth!
A problem with the alignment of your teeth can be uncomfortable and even cause a lack of self-confidence. Orthodontic treatment with our professionals corrects dental misalignments and aligns your teeth.
In our Adent dental clinics, we offer tailor-made orthodontic treatment for both adults and children. Personalised support allows you to regain an aesthetic smile and well-being. Our orthodontists use the latest technology and offer various orthodontic treatments depending on the initial situation and the desired result. Discreet treatments (e.g. the orthodontic method using transparent Invisalign® dental tray) are available for adults and teenagers, along with the classic braces, a well-known and recognised effective treatment.
Find my clinic
What techniques are available to align my teeth?
1. VESTIBULAR BRACES
There are various orthodontic techniques available to achieve straight teeth. Our orthodontists offer you fixed (visible and invisible) or removable (visible and invisible) braces. Traditional braces are the most popular treatment. They are bonded to each tooth and a wire connects each tooth to each other. Orthodontic braces, the most popular braces today, are also available in ceramic – tooth-coloured. Slight tension is applied at regular intervals and allows the teeth to move.
My orthodontist
2. Invisalign® clear aligners
Orthodontic treatment without braces is also possible with Invisalign®!
This technique uses a series of removable clear aligners to align your teeth without wires or visible braces. You wear each set of aligners for about 2 weeks, removing them only to eat, drink and clean your teeth. As you replace each invisible aligner with the next in the series, your teeth move, week by week, until they reach their final position.
The first consultation costs CHF 135.
About Invisalign®
3. LINGUAL BRACES
Lingual braces are braces that are positioned behind the teeth and in front of the tongue (hence the name: "lingual"). These braces are well hidden and completely invisible from the outside. The brackets are connected by a metal arch which exerts pressure on the teeth, and moves them gently until the desired alignment is achieved. They can be made of different materials and shapes depending on the brand or model used by the orthodontist.
Find my clinic
Children
Adults
Orthodontics for children
Orthodontic treatment can be undertaken at more or less any age. Yet, most parents want their children to be treated early. Depending on the type of orthodontic treatment, an initial interception phase can be carried out as early as 4 years of age, or earlier if cooperation permits. The interception of malocclusions during growth is essential to achieve results that cannot be achieved after the final growth phase.
To determine the most suitable type of orthodontic treatment for your child, we advise you to consult an orthodontic specialist. He/she will give you all the information about the process and the start of treatment and will answer your questions. There are various types of treatment available, including Invisalign® aligners or the more traditional braces: metal brackets bonded to the surface of the teeth. Our experts will also tell you about the possibility of financial participation by external bodies (e.g. social insurance, compulsory insurance or invalidity insurance).
Book an appointment
Orthodontics for adults
Thanks to the development of new technologies, adult orthodontics is booming. Innovative orthodontic methods such as adult braces with clear ceramic brackets, lingual orthodontics (brackets attached behind the teeth) or transparent thermoformed aligners (Invisalign® system) have made orthodontic treatment much more discreet – even invisible.
Beyond the simple aesthetic alignment of the teeth, orthodontics makes it possible to change situations that have been disturbing or even uncomfortable for many years, such as:
A jaw that is too far forward
A chin that is too far back
A smile that exposes the gums
Too much space between teeth or overlapping teeth
Lips that do not close completely, even at rest
There is no age limit for starting orthodontic treatment. Our orthodontic experts are available to discuss your personal situation and answer your questions. Do not hesitate to make an appointment for information with one of them!
Book an appointment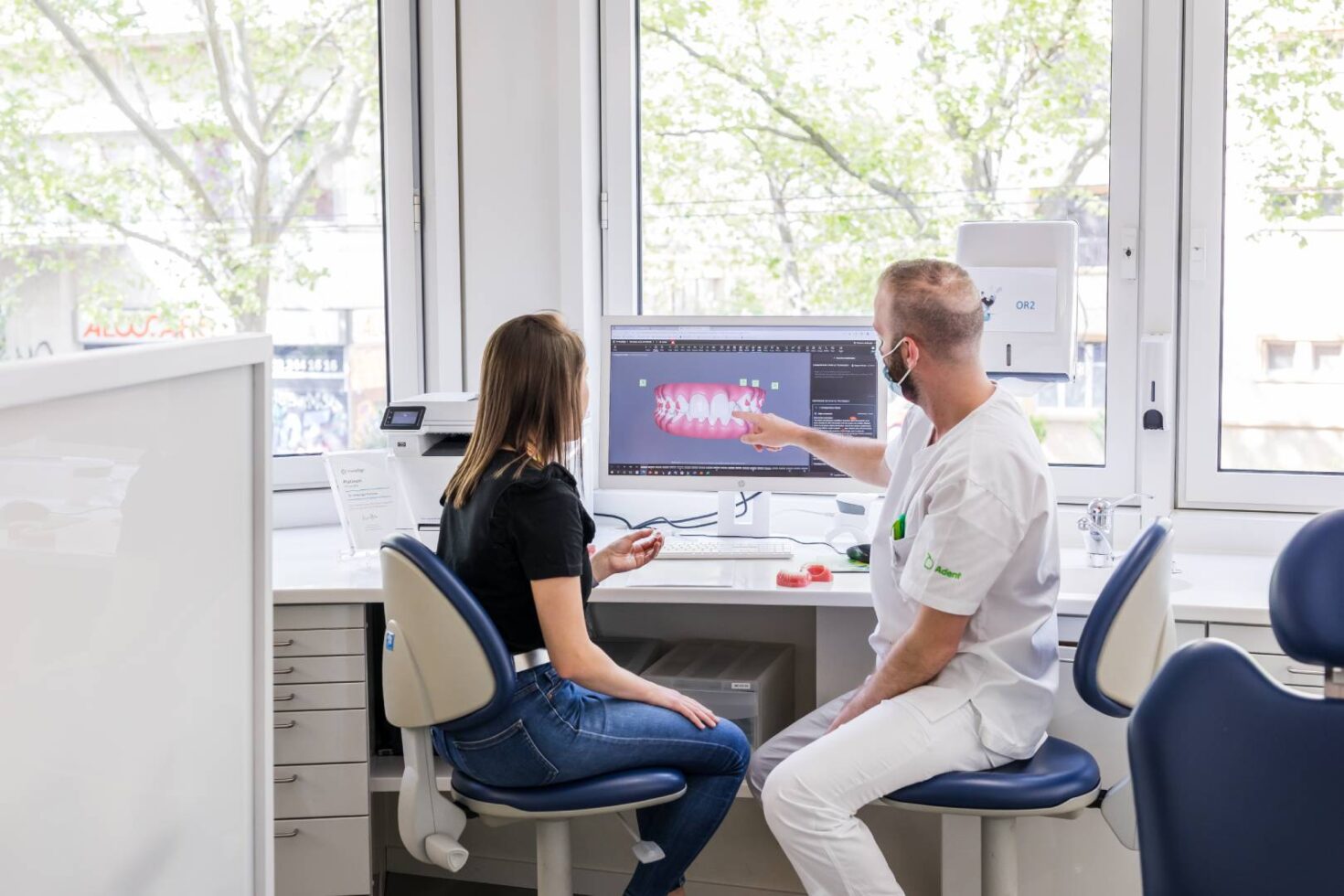 FAQ – Orthodontics for children and adults
Why choose orthodontics?
Although people often think of orthodontics for aesthetic reasons, there are many more benefits to orthodontic treatment. Incorrectly positioned teeth and jaws can cause functional problems and can be difficult to clean. Poor cleaning of the teeth leads to a build-up of plaque on the teeth and contributes to the development of cavities and gum disease (e.g. receding gums). Due to the pain involved, chewing can be impaired and become less efficient, which will have an impact on your diet and digestion. Dental malpositioning can also cause excessive wear on the teeth, pain in the jaw, head, neck and facial muscles.
What are the benefits of orthodontics?
While there are many benefits to orthodontic treatment, such as braces or Invisalign® clear aligners for a child or adult, we have listed the most common ones below:
Restores an optimal occlusion: a good contact between the upper teeth and the lower teeth helps good mastication.
Prevents tooth wear: when the alignment is optimal, tooth wear is minimised. Your tooth enamel and the shape of your teeth are preserved.
Improves oral health: abnormalities in the positioning of your teeth or jaw can lead to gum pain and inflammation. Teeth that are aligned provide better access for cleaning.
Restores a harmonious appearance: optimal alignment brings self-confidence. Rediscover a bright smile and boost your self-confidence.
How much does orthodontic treatment cost?
The cost of orthodontic treatment can only be determined after a thorough check-up with your orthodontist. The check-up is carried out in the dental surgery in the presence of the specialist. This gives the orthodontist an overview of your current state of oral health and can be supported by X-rays for the complete check-up. You will discuss the various treatment options and together you will determine the desired result. The price of an orthodontic treatment is only determined after an examination by one of our orthodontic experts. Several factors must be taken into account:
the technique used
the duration of the treatment
the malpositioning of the teeth
the desired final result also influences the cost of the treatment
These various aspects should be discussed with our orthodontists.
Would you like more information about our orthodontic techniques?
Make an appointment with an orthodontist and discuss the possibilities of aligning your teeth.
Book an appointment